The Kardashian-Jenner clan are known for living a life of luxury. Between their multi-million dollar properties, store sized closets, and tropical getaways, this is one family who spares no expense when it comes to enjoying the finer things in life. It should come as no surprise that their preference for the high life has extended to their offspring as well. Even though some of their spending habits may seem outrageous, the next generation of The Kardashians has wealthy parents whose love for them runs just as deep as their pockets. Combine that with their propensity of documenting everything on social media, and this gives the public some pretty deep insight into how the kids of the other half live.
10-KYLIE JENNER CREATED "STORMI'S WORLD"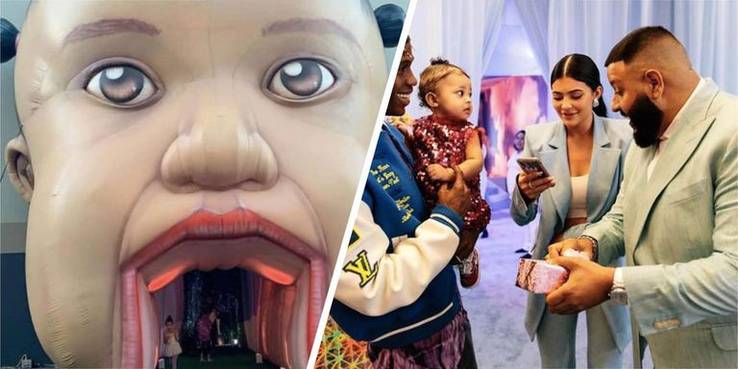 Kylie Jenner's firstborn, Stormi Webster celebrated her first birthday on Jan. 19 of this year. As the world's youngest self-made billionaire, it's no surprise that Kylie went all out by throwing Stormi a lavish birthday party. Dubbed "Stormi's World", a play on her father, Travis Scott's Astro World album, the party took place in a larger-than-life replica of Stormi's head. Once inside, guests, which included DJ Khaled, in addition to most of Stormi's famous aunties (sans Kim Kardashian), enjoyed pizza, gourmet sweets, and a live performance of Baby Shark. Considering that social media was set ablaze by people who wished they'd been invited, it's safe to say this was one event you wouldn't have wanted to want to miss. And even though Stormi won't remember a single second of it, she'll always have the photo evidence to look back on.
click next to keep reading ↘↘↘